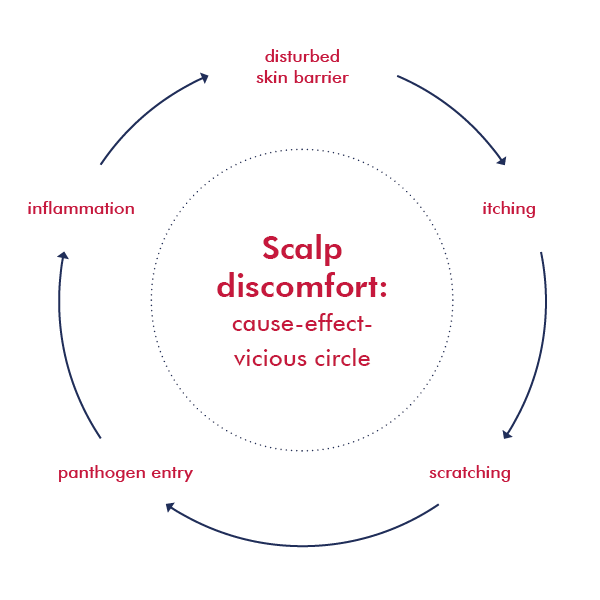 Healthy scalp and shiny hair
Itching, irritated and flaky scalp is stressful and disturbing. Many exogenous stimuli, such as dry heating air, aggressive shampoos and styling products, can daily weaken the skin and leave the hair dull and brittle. The health of the scalp is also influenced by various factors such as climate, season, microbial colonisation and hormonal status. The scalp reacts to the stimuli as sensitively as the rest of the body's skin.
The severity of dandruff varies from a mild extent, similar to dry skin, to seborrhoeic dermatitis. To bring the scalp into its natural equilibrium, the right products are there to support it, also accompanying medical therapy. Thus irritation, dryness and dandruff can be prevented. An optimally functioning scalp is the be-all and end-all for healthy, beautiful hair.
There are six different types:
Normal scalp:
It renews in about 28 days. Corneocytes dissolve as single cells, the scalp is healthy and inconspicuous.
Dry scalp:
The skin renewal rate is also 28 days. However, corneocytes detach in groups of 10-20 cells (smallest hardly visible floury scales)
scalp with dry scaling:
The skin renews more quickly, every 7-21 days. Corneocytes dissolve in coarse scales of about 100-1000 cells.
Oily scalp / Seborrhoeic dermatitis:
The skin renewal rate is also about 7-21 days, skin cells dissolve in oily scales of 100-1000 cells. The scalp is reddened and inflamed.
Atopic head eczema:
The main symptoms are redness and itching of the scalp, dry mealy dandruff may be absent or present.
Scalp psoriasis:
The skin renews itself in less than 7 days, the skin cells clump to large scales of more than 1000 cells. It creates so-called plaques. The underlying skin is reddened and inflamed, often hardened, indurated. The inflammation often reaches 1 cm into the skin of the forehead.
Symptoms of an itchy, irritated and flaky scalp
An itchy, irritated scalp manifests itself primarily through scalp dryness and redness. Frequently dandruff is visible and the skin reacts to touch with special sensitivity. An altered microflora is also characteristic with a significantly increased skin pH. However, these changes also have consequences for the hair: It appears dry, brittle and lacklustre.