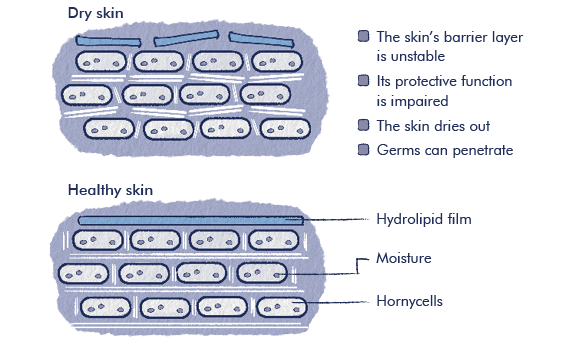 Skin care for neurodermatitis
Neurodermatitis (atopic dermatitis) refers to a chronic, intermittent skin disease, the main cause of which is insufficient formation of the natural barrier layer of the skin. Genetic factors (predisposition), environmental influences, the psyche and mechanical stimuli interact in a complex manner. It often starts in infancy.

Typical signs of neurodermatitis are very dry, flaky skin with tenderness or itching, which can cause scratching and local infections if the skin is damaged. Eczema often occurs on parts of the body that bend - on heavily stressed parts of the body such as elbows or knees. The more extreme forms frequently decrease with the onset of puberty. However, the skin usually remains dry, sensitive and in need of care for a lifetime. It tends to overreact to multiple stimuli with eczema and acute episodes, such as from stress, mechanical skin irritation and allergens, but also from infections and climatic factors. The form is different for different people and can vary greatly over the course of a life.
Effect of the dyer's woad extract
Study documents on dyer's woad extract: In vitro experiments on keratinocytes and mast cells demonstrate the effect of the leading components of dyer's woad extract.
• Reduction in proinflammatory interleukin-6 expression after 24- and 48-hour irradiation
• Pretreatment reduces the inflammatory response even more effectively
• In comparison with hydrocortisone: stronger after 24 hrs and after 48 hrs similarly effective reduction of interleukin-6 expression
Individual care for neurodermatitis – optimally tailored to your skin type
The right daily skin care can ensure that you feel good in your skin again. Even in stable phases, the skin is very dry and sensitive and needs appropriate "care-attention". For acute episodes, you should consult your dermatologist. He or she will tailor individual therapy to your current skin condition. In addition, dermatologically and cosmetically oriented skin care institutes offer you professional treatments in order to restore the skin's balance and thus achieve the most stable possible condition:
Mask applications promote the fat/moisture balance

Massages with lipid-containing creams and moisturising concentrates smooth the skin and relax

Slip-in treatments moisturise the skin

Derivative treatments such aslymph drainage have a soothing effect on the skin
The ultimate goal is the regeneration and stabilisation of the skin barrier through consistent medical skin care.
First and foremost is gentle cleansing, which does not further dry out the skin and at the same time should have a calming and lipid-replenishing effect. Frequent contact with water and especially warm water, which further removes fat and moisture from the skin, should be avoided. Lipid deficiency can be counterbalanced by oily creams or lotions while reducing the skin's roughness.

High quality ingredients such as evening primrose seed oil, which has a high gamma-linolenic acid content, is particularly recommended for atopic skin. Urea and glycerin help the skin retain moisture and keep it smooth and supple. Irritations can be alleviated by soothing agents such as panthenol and bisabolol. The combination of these recommended ingredients in particularly well-tolerated formulations strengthens the skin barrier and thus offers additional protection against mechanical irritations caused, for example, by clothing. Care should also be taken to maintain a balanced, healthy diet and to satisfy the fluid requirements of the body by sufficient intake of mineral water and other beverages without sugar or caffeine.

Deterioration of the skin condition can also be caused by food allergies or environmental allergies. Through allergy tests done by the dermatologist, these can be determined and triggers are therefore usually avoided. Your dermatologist or pharmacist will be happy to advise you which products from the DERMASENCE range are best suited for you when having neurodermatitis.
Protection against inflammation
Can prevent the development of itching and inflammation
Can calm the skin effectively
Reduces lasting redness
Therapy-accompanying care for neurodermatitis:
may prolong periods free of relapses with regular use
Protection against mechanical loads
Breathable, non-greasy
Protective film
Amphiphilic galenic imitates sebum
Strengthens the barrier function
Regulates TEWL
Application of Vitop forte
After mild cleansing, apply DERMASENCE Vitop forte twice daily (or as needed) to affected areas of skin.Long-term use is possible.

In case of acute itching, treat the skin with DERMASENCE Polaneth Lotion.

Especially kind to the skin and suitable for children.
Skin protection for children
Vitop forte Junior
The protective screen for the youngest people's skin
Special skin protection for a strong barrier for sensitive baby skin
Active complex of dyer's woad, aloe vera and green tea
Natural oils such as shea butter and sea buckthorn pulp protect sensitive baby skin from drying out
Texture forms a breathable protective film
Easily applied galenics for friction-free application.Developed especially for baby skin
Promote the healing of mild irritations and redness with Panthenol

Use of Vitop forte Junior
Apply a pea-sized amount of DERMASENCE Vitop forte Junior to affected skin areas up to twice daily.Long-term use is harmless
Can prevent nappy rash with regular use.The baby's skin should be dry before applying the cream
For children and babies from three months
Care product recommendations